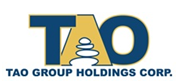 TAO Group Holdings Corp.
Canadian owned and operated. Consisting of a parent company TAO Group Holdings Corp., and four operating subsidiaries: TAO Asset Management Inc., TAO Admin Corp., TAO Administration Inc., and TAO Solutions Inc. Each of these subsidiary companies provide specialized services to participants in the Canadian structured finance and credit markets. Each branch is lead by recognized experts in the North American securitization and structured finance markets. These branch leaders have years of experience and expertise in structuring, administration, credit and risk management and securitization technology solutions. Allowing TAO Group to provide all its clients with exceptional, innovative services.
TAO Group Holdings Corp. is indirectly owned and controlled by its principals, Ken Toten, Albert Ottoni, John Abraham and David Allan. The majority of the subsidiary companies are owned by TAO Group Holdings Corp. The remaining shares are held by management of the respective operating subsidiary company.
TAO Solutions
Dedicated and focused provider of unique software and processing solutions for the Canadian financial services marketplace.
TAO Solutions offers sophisticated products that add operational efficiencies and rigor to complex and burdensome processing requirements. Consisting of a team with unparalleled depth of experience in capital markets technologies, they endeavour to bring leading-edge solutions to market that allow companies to concentrate on their core competencies.
Visit the TAO Solutions Website | mortgageHUB :: Product Sheet | secureHUB:: Product Sheet